Hi. My name is Amin and I have had the worst experience with a supposed-to-be exchange website called exchanger24.org. (https://exchanger24.org/)
On July 13th, 2020, I was looking for a BTC/PayPal exchange company and I came across this exchanger24 website. It looked legitimate and I was too tired to perform a background check on this site…. BAD IDEA!!!
I followed the payment steps until it gave me a Bitcoin wallet address to transfer to.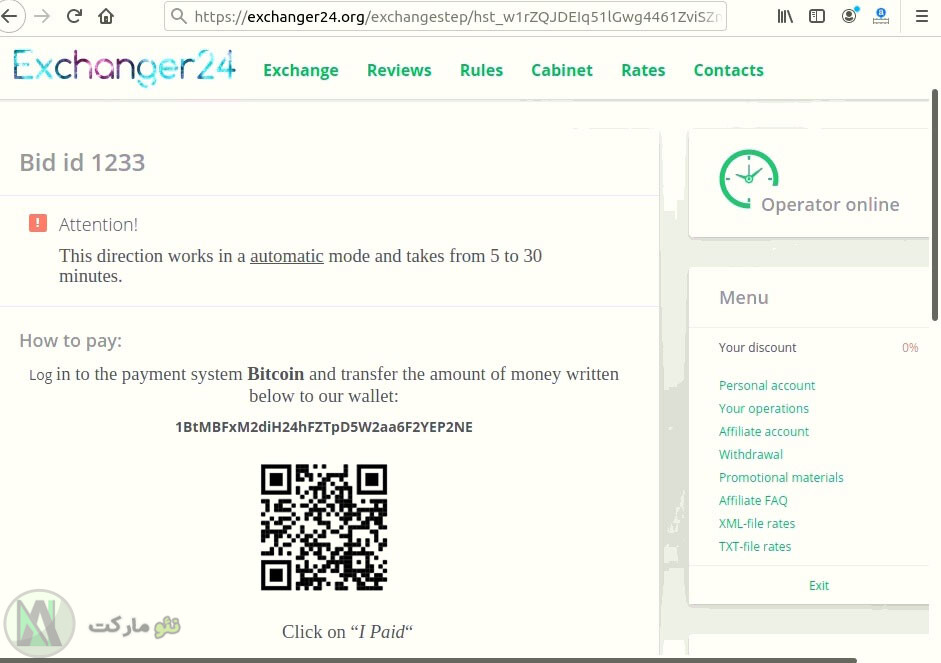 Proof of Payment to Exchanger24.org
I transferred 0.0035 BTC to their wallet and came back to their sites and clicked on "PAID". It redirected to a page saying they're checking my payment and it would take 5 – 30 minutes.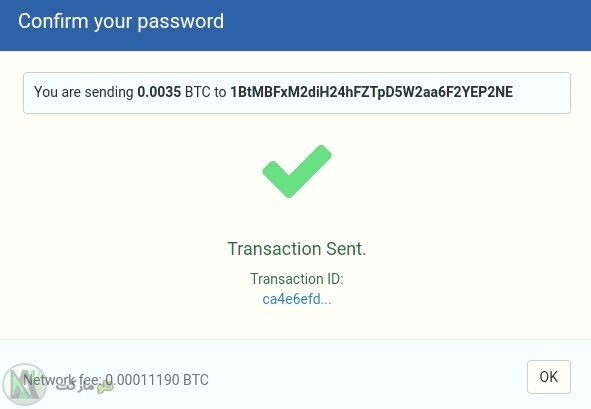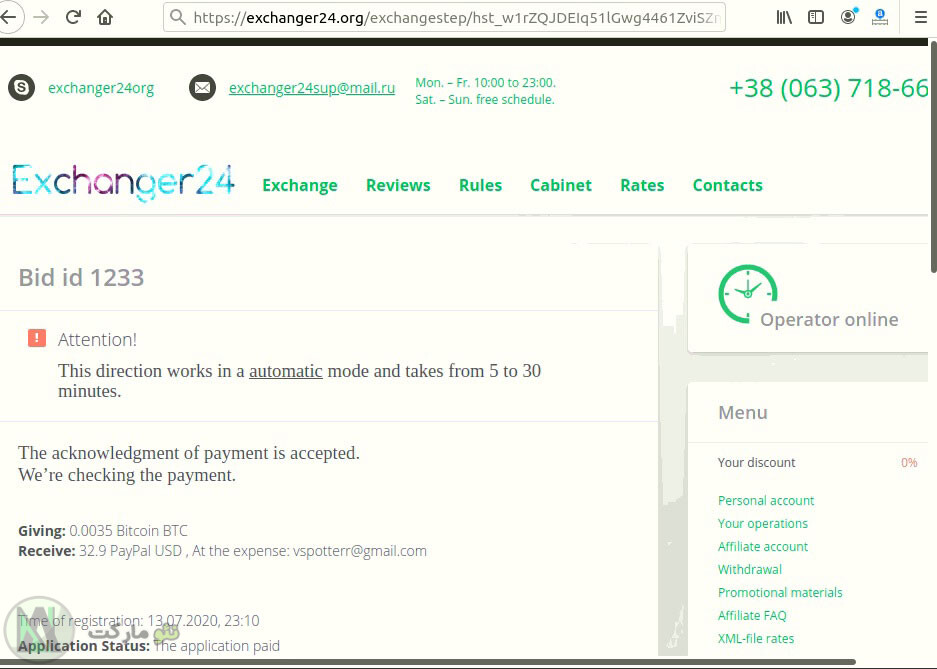 I waited and waited. Nothing happened. My PayPal account was still empty. After half an hour, I used the email in the header of their site and sent an email saying I've been waiting for half an hour for my money which is $32.9. I haven't received anything yet.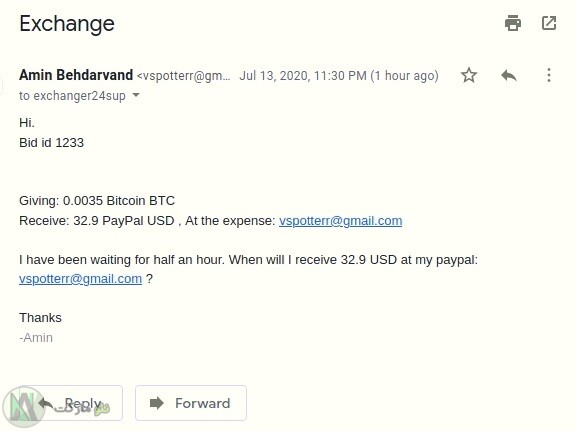 They didn't answer to my email. I got worried and searched their name on Google and I found forums, Youtube videos and BTC scammer alert websites about them being a scam! I couldn't believe it. How can a completely scamming website be allowed to operate?
Well, what's done was done.
I could remain silent like many people who lose their money to these fraudulent websites or I could push to take their website down.
What to do if you have lost money to exchanger24.org
I highly encourage you to take action against this crime and this scam website to stop more people fall into their trap. Please read below to see what I did to stop them and how it affected them.
After I didn't receive any money from exchanger24, I ran a whois check on their domain. I found their hosting company.
Their hosting company of exchanger24.org is: HOSTIQ.UA
It's an Ukrainian hosting company, the same country this website is operating from.
Now, I used the chat tool of HOSTIQ hosting website and told them the story. The attendant was very polite and helpful. She gave me an email for abuse report. The abuse email of HOSTIQ is: abuse@hostiq.ua
I sent an email to this hosting's abuse department and explained the incident. They thanked me for contacting them. They said that they have informed the client (exchanger24.org) about this problem and have given him 48 hours to resolve this issue otherwise they will suspend their service.
It was very nice of the hosting company to give their own customer a warning about my experience with them. And they were really cooperative.
They forwarded my messages to that guy (exchanger24) and he replied to them and they delivered his messages to me.
My Communication with Exchanger24.org
At first, the guy said he doesn't have a client with my name!! And said my screenshot doesn't show that I have exchanged on their site and asked if I have a link to a valid application on their site.
I sent a screenshot of my profile page on exchanger24.org.
I also sent them the link to the application. But the application was gone. That's what they do. After 1 hour of refreshing the page after you pay them, the application gets deleted. And this guy says he needs a working application!!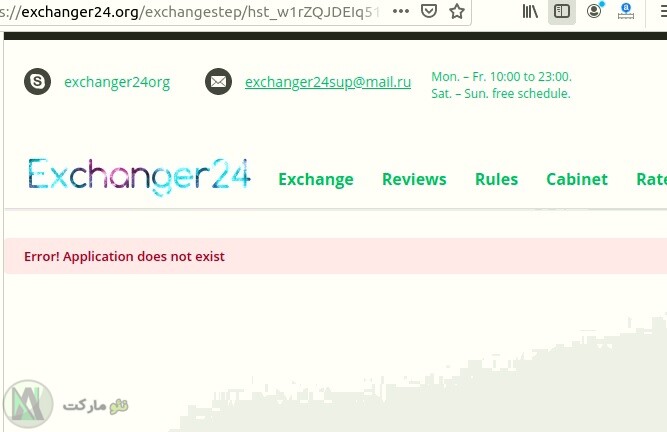 I gave him the non-working link of the application on his website:
https://exchanger24.org/exchangestep/hst_w1rZQJDEIq51lGwg4461ZviSZnGxDeCITCL/
And also the BTC transaction link:
https://btc.com/ca4e6efdfb430b53fb33945578b8ff844289aa3b15ec15408d945d109ef46eab
When I provided him with the links, he said it's non-operational and I have sent Bitcoins to other people's wallet!!!
The hosting company gave me their client's personal email address and I made contact with him directly. His name is Roby. Or at least that's what he pretends to be.
I said what do you mean? He said the "purse" on their website is different than the address I had sent to. He was right, it was different, but what does that mean? He changes the address every once in a while. I told him that. I said this address is not fixed and changes from time to time.
It was: 1BtMBFxM2diH24hFZTpD5W2aa6F2YEP2NE
when I made the payment, and when I talked to him about it, it was: 1A16RMvp6AsieTc93ifNxFHA652NETToMr
And I told him it will change soon!!
By the time of writing this article, the address has changed several times. Every time he receives Bitcoins from his new victim, he will change the address and if you ever find him and show him the transaction link, he will say you have sent Bitcoins to a wrong address!
And when I insisted to pay me, he also called me a fraud. He said I had forged the screenshots in Photoshop…. pathetic!
A fraud and scammer like this guy calling other people frauds.
Anyway, if you're taking screenshots, make sure that don't crop the images in Photoshop. Do that in other applications, like Paint, just to shut him up. And send the screenshots to the hosting company first. Ask the hosting company to take their website down. I couldn't convince them to do it so far. Still working on it. But if you raise your voice and ask them to take their website down, I'm sure they will do it when they see many people have lost their money to this fraudulent website.
Exchanger24.org Fake Trustpilot Reviews
Unlike forums, Youtube videos, and people who shared their story about losing money to exchanger24 scam website, I realized that the TrustPilot reviews were great. Totally positive!!
I couldn't believe it, and placed a 1 out of 5 rating on their trustpilot. Soon after I wrote a few lines about how I lost money on exchanger24.org, the site's owner reported my review as violating trustpilot's guidelines.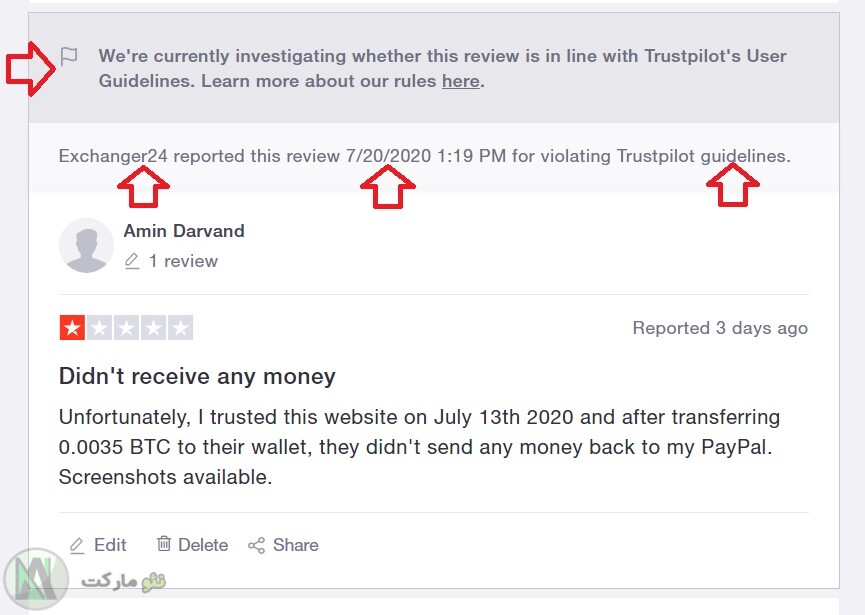 I got curious searched more about this scammer Roby guy and found out that he is an SEO expert!! Well, that explains it all. This guy is a professional Reputation Manager. Reputation Management is an SEO services where the expert reports, removes, hacks, and does all evil stuff to polish a target website's face and wipe out all negative reviews or comments about the target website's profile.
That's what he is doing in Trustpilot. He generates tons of positive fake reviews and reports all negative ones. I wrote a lengthy letter to TrustPilot as well, expecting to take action against this criminal. Otherwise, it would be just sad that TrustPilot will not be trusted anymore. What's the point of a review system where all reviews are fake.
Conclusion: Exchanger24.org is Scam
Please speak up against this scam website if you have lost money to this fraudulent exchange website. They take people's money and give back nothing. It's just sad that how humanity has descended and lowered in some countries that they make money by stealing from poor people. Some people can't afford losing money. It's just sad…
Please don't remain silent and just like me, send emails to their registrar, their hosting company, their partner in crime review systems and so on. When all of you speak up, I'm sure they will take their website down. And if he changes the name of his website or buys a new domain, I will update this blog post to make sure he will not get away with this.
I hope you stay safe and sound.
Thanks for reading,
-Amin